Well folks, it's my first(ish) post on the new blog AND my first post from Dublin, where I'll be living until mid-April! How thrilling! I promise there will eventually be photos of my handsewn items in Dublin, but first I have a couple of garments that I photographed before I left Portland.
The first of these, I actually began working on close to a year ago, and finished last summer. The pattern is McCall's 3246 from the early 70s.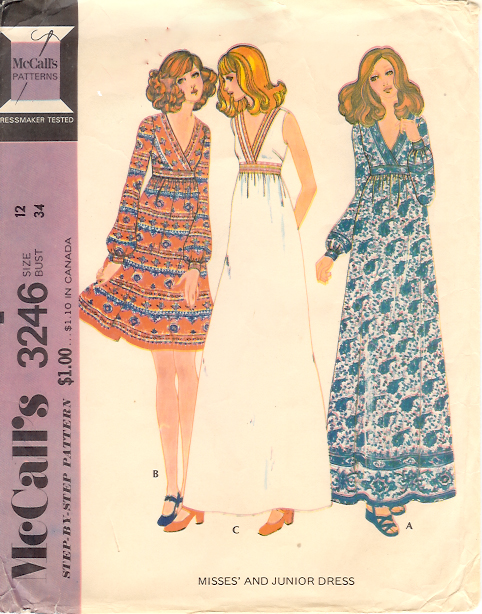 I have made this dress before, back in the days when I thought you just cut a pattern out and it fit perfectly without modification. That was the dress that taught me that's not true (also, that quilting cotton is not always a good choice of fabric). It looked okay in pictures, but I felt restricted and uncomfortable wearing it, and the crossover bodice gaped like mad, so I gave it to my mother to use in quilting. I really liked the idea of the dress, however, and when I was given this crazy poly/wool paisley border print, I knew it was meant to be.
The fabric is very loosely woven and pretty sheer, so I underlined it with a poly cotton bedsheet. Given that I had actual 100% organic cotton bedsheets lying around, this was a dumb choice. The underlining was stiff and hated to take a press, while the fashion fabric was floppy and unstable, and also hated to take a press. Consequently, my darts are a bit, well, lumpy. Luckily, this fabric hides all the flaws in its mad pattern.
I did make a muslin for this dress, but be warned, dear readers: if you don't do a muslin right, it is a waste of time. I didn't put sleeves on my muslin, which would have alerted me to all manner of problems. I also didn't put a waistband on my muslin. Lastly, I made too large of an FBA, but rather than addressing this directly, I just sort of pinned the bodice front pieces together where it looked least bad. It was all very foolish, as I realized when I stood in front of the mirror a couple of months later with a half-made bodice in my fashion fabric. I lengthened darts, I shortened darts, I lengthened them again… in the end I did an SBA to my altered pattern piece and carefully cut the new bodice piece out of the old bodice piece. It was a mess!

(I don't know why there are so many pictures of me looking down my nose at the camera. It's a major trend and I don't know how it happens.)
Other changes I made, besides the FBA:
• I took a total of two inches (I think!) out of the bodice width, and altered the waistband accordingly. The bodice is fine but the waistband is a bit snug so I must have done something wrong.
• I made the shoulders narrower by 1/2″ each
• I added darts from the waistband up, as part of the FBA
• I made the skirt a lot shorter, thinking I would be wearing it with rubber boots (I prefer to wear rubber boots with miniskirts). I have yet to wear it with rubber boots but I do like the length!
I will admit I don't love this dress. I feel super cute in it and I do wear it sometimes, but the fit is still weird, especially with the sleeves and the slightly-too-tight waistband. The polyester also gets pretty gross to wear in humidity, but I live in a humid climate… all this combined means I don't reach for it too often, unfortunately.
Here is a detail of the crossover bodice and one cuff. The sleeves and cuffs of this dress are probably my favorite thing about the pattern.
I tried to have a bit of fun with this photoshoot (if it can be called that…) since photos are fun and I hate looking awkward in front of a camera. If you don't feel awkward, you don't look awkward! Still, I'm always a little worried that one of my roommates is going to look out the window and see me posing by myself in the backyard.
Oh, and since I am in Dublin, here's a picture of me in a pub: